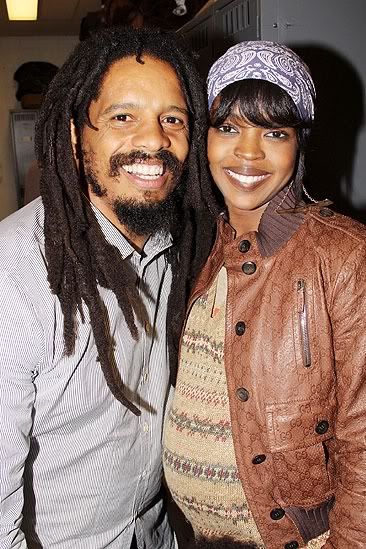 Grammy winning Lauryn Hill
and
her off and on again partner Rohan Marley welcomed their sixth child into the world on Saturday.

A source told Blackcelebkids.com that,
"Mother and baby are fine," but added that they, "had a little scare because the baby came out the womb with the umbilical cord wrapped around his neck. All is well now and everyone is happy."
Back in June, Rohan created a media firestorm when he claimed he was not the father of Lauryn Hill's sixth child! (Read more HERE.) And a few days ago, his Brazilian model girlfriend, Isabeli Fontana, tweeted her love for him and posted a picture of them together (HERE.)
Hmmmm….one can only SPECULATE that he is really with Isabeli Fontana and she purposely posted those tweets to coincide with Lauryn's due date. The dude is still married to his wife, has six kids with Lauryn, so we wouldn't put it past him. We smell womanizer trying to be doting dad!
So will Rohan leave Lauryn for Isabeli Fontana , he said,
"Ms. Hill is the mother of my children, whom I have a tremendous amount of love and respect for. I would never do that."
We guess the paternity test shut him up! ROHAN MARLEY YOU ARE THE FATHER!