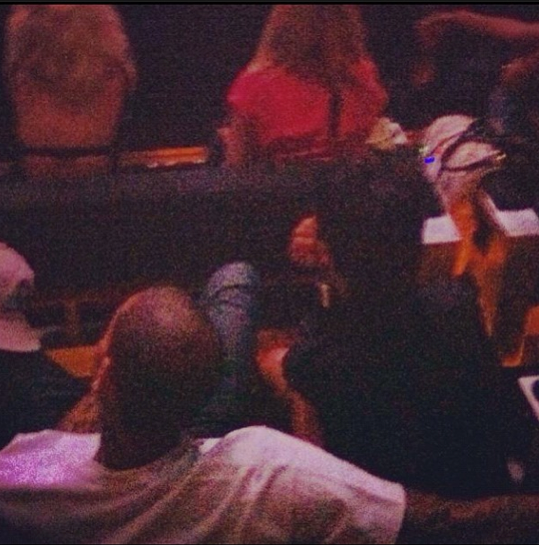 Rihanna and Chris Brown are back in public with their love affair….and they aren't hiding it!
The two young superstars were  seen canoodling on Wednesday night at the Barclay's Center in Brooklyn, NYC, where the pair attended Jay-Z's sold-out concert and took no pains to hide their affection.
About a month after their public kiss at the MTV Video Music Awards, the two were yet again back in the "fling" of things, sneaking into each other's NYC hotel rooms and now chilling together in the V.I.P. section at the Barclays.
The "Don't Wake Me Up" singer was spotted kissing Rihanna's cheek, and kept his around her. "They weren't looking like they were expecting people to be shocked at all," the first source says. "Totally casual about it."
Adds the second insider: "They looked full on back together."
Meanwhile, Chris' girlfriend Karrueche is somewhere in the world licking her wounds!
RELATED STORIES:
PHOTOS: Rihanna at the 40/40 Barclays Center grand opening in Brooklyn.
Rihanna leads 2012 MTV EMA Nominations, more Caribbean nominees inside…
VIDEO: Rihanna reveals a side never seen before on "Oprah's Next Chapter" filmed in Barbados